Executive Team
Martin W. Michael, President and CEO (Joined 2012)
Marty joined Miria Systems in 2012 to focus the company's direction as a software as a service provider. Prior to Miria, Marty was the Vice President of Sales and Marketing for Avanceon Corporation, where he led the company to 50% year over year sales growth before being acquired by Engro Corporation. In 2000, Marty was Founder and CEO at LScan Technologies, a start-up that developed and marketed mobile software solutions involving barcode and RFID technologies for pharmaceutical and healthcare companies. Marty spent 15 years at Konica-Minolta, where he rose to Regional Vice President, Northeast, and was responsible for operations, technical, and sales support of many Fortune 1000 companies.
Robert Vogel, Vice President of Technical Services (Joined 2012)
Bob is responsible for the strategic and operational leadership of project delivery, consulting, and support services for both cloud and on premise customers.  From 2006-2011 he was VP Technical Services at Avanceon where he established, marketed, and managed Avanceon' s Engineering Support Services Group, and was responsible for recruiting, engineering, project delivery, offshore development, and implementing a virtual and cloud based Internal IT strategy.  He was District General Manager for Honeywell Security Monitoring from 2004-2006. From 2002-2004 Bob was VP of Data Solutions and Support at LScan, responsible for staffing and managing a technical and customer support network.
George Thomas, Vice President of Direct Sales (Joined 2001)

George has over 20 years of enterprise consulting and software sales experience in markets across North America. He joined Miria Systems in 2001 and has been instrumental in bringing some of the largest customers to the portfolio. As Vice President of Sales, George is responsible for all customer-facing functions, including business development and sales operations required for revenue growth and market positioning. Prior to joining Miria, he served as the Director of Sales and Marketing for CIS Corporation where he grew revenue by 65% before being bought by Stargate Industries. Prior to that, he was a Business Partner with a start-up software company Brixton International where he successfully grew the revenue base. George holds an M.B.A. and a B.S. in Computer Science from Clarion University.
Ronald Siena, Vice President of Channel Sales (Joined 2001)
Ron is responsible for strategic business development, with a focus on IBM client and partner relationships. He provides project management, domain expertise, solution design, document management/capture recognition technology expertise, and technical guidance developed through 20 years of design, implementation, and maintenance of ECM and BPM solutions in multiple markets both private and public. He previously spent 8 years as a District Systems Consultant and Project Manager for FileNet. Ron is credited with establishing Miria as an IBM Premier Business Partner and an IBM Solutions Provider.
Daphne Bogert, Vice President of Product Development (Joined 2014)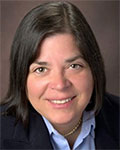 Daphne is the CTO of Miria Systems, having joined the company in December 2014. In her role, Daphne is responsible for product development and the underlying cloud infrastructure for our SaaS customers. Prior to Miria, Daphne was the Vice President of Product Development for Acsis where she transitioned the software engineer department from a solutions based organization to a product focused group. Daphne has over 20 years of software leadership experience with companies such as Accenture, Nokia/Navteq, Cambridge Technology Partners and American Management Systems as well as early stage product development and delivery roles with LScan Technologies and SportBuyer.com.
LuAnn Myers, Vice President of Finance and Controller (Joined 2015)
LuAnn s is responsible for the financial, HR and administration functions of the company. She is a CPA with over 30 years of experience as a CFO, Controller, and Consultant. Prior to joining Miria in 2014, Ms. Myers held CFO positions with privately held Technology, Real Estate and Distribution companies and worked in a consultant capacity with businesses ranging from small startups to large corporate multinationals.