Executive Team
Martin W. Michael, President  (Joined 2012)
Marty joined Miria Systems in 2012 to focus the company's direction as a software as a service provider. Prior to Miria, Marty was the Vice President of Sales and Marketing for Avanceon Corporation, where he led the company to 50% year over year sales growth before being acquired by Engro Corporation. In 2000, Marty was Founder and CEO at LScan Technologies, a start-up that developed and marketed mobile software solutions involving barcode and RFID technologies for pharmaceutical and healthcare companies. Marty spent 15 years at Konica-Minolta, where he rose to Regional Vice President, Northeast, and was responsible for operations, technical, and sales support of many Fortune 1000 companies.
Robert Vogel, Vice President of Technical Services (Joined 2012)
Bob is responsible for the strategic and operational leadership of project delivery, consulting, and support services for both cloud and on premise customers.  From 2006-2011 he was VP Technical Services at Avanceon where he established, marketed, and managed Avanceon' s Engineering Support Services Group, and was responsible for recruiting, engineering, project delivery, offshore development, and implementing a virtual and cloud based Internal IT strategy.  He was District General Manager for Honeywell Security Monitoring from 2004-2006. From 2002-2004 Bob was VP of Data Solutions and Support at LScan, responsible for staffing and managing a technical and customer support network.
George Thomas, Vice President of Direct Sales (Joined 2001)

George has over 20 years of enterprise consulting and software sales experience in markets across North America. He joined Miria Systems in 2001 and has been instrumental in bringing some of the largest customers to the portfolio. As Vice President of Sales, George is responsible for all customer-facing functions, including business development and sales operations required for revenue growth and market positioning. Prior to joining Miria, he served as the Director of Sales and Marketing for CIS Corporation where he grew revenue by 65% before being bought by Stargate Industries. Prior to that, he was a Business Partner with a start-up software company Brixton International where he successfully grew the revenue base. George holds an M.B.A. and a B.S. in Computer Science from Clarion University.
Scott Azzolina, Vice President of Channel Sales (Joined 2019)
Scott has an extensive background in global marketing and sales.  He will be responsible for driving Miria Systems growth through key channels including IBM as well as other strategic partnerships.  Prior to joining Miria, Scott was Vice President of Marketing for Connectria, a cloud hosting company.  During his tenure at Connectria, Scott was instrumental in developing and executing effective strategies which led to exponential direct and channel sales growth.  Throughout his career in technology marketing and sales, Scott has also held key roles with Primavera (now Oracle), Gemplus (now Axalto), Unisys and NCR.  Scott holds a B.S. in Marketing from Saint Joseph's University and an MBA from Drexel University.
Daphne Bogert, Vice President of Product Development (Joined 2014)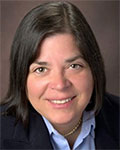 Daphne is the CTO of Miria Systems, having joined the company in December 2014. In her role, Daphne is responsible for product development and the underlying cloud infrastructure for our SaaS customers. Prior to Miria, Daphne was the Vice President of Product Development for Acsis where she transitioned the software engineer department from a solutions based organization to a product focused group. Daphne has over 20 years of software leadership experience with companies such as Accenture, Nokia/Navteq, Cambridge Technology Partners and American Management Systems as well as early stage product development and delivery roles with LScan Technologies and SportBuyer.com.
Tom Cabot, Manager, Delivery Services (Joined 2017)
Tom joined Miria in July of 2017 as an Engagement Project Manager.  Since then he has assumed the position of Manager of Delivery Services, and now leads the Project Management and Business Analyst Teams.  Tom has over 25 years of experience leading and managing various business areas for both domestic and international operations. His background includes positions in account, operations, project, and product management.  Tom brings a broad business experience background as well as experience designing and delivering multi-national BPM and ECM solutions in the healthcare and services industries to the Miria team.  Tom holds a B.S. degree from Eastern University and an M.S. degree from Penn State University.
Stephen L. Pietrzak CPA, Business Development Executive (Joined 2017)
Steve has 25+ years in financial services solution sales experience in various markets around the globe.  Steve joined Miria in 2017, and is responsible for working with our customers and prospects to deliver financial automation solutions for their business needs.  Prior to joining Miria, Steve was a Managing Director for Business Development at FIS/SunGard and SEI Investments.  Steve is a CPA and worked at Ernst & Young as a Financial Market expert.  He received his B.S. in Accounting and Finance from LaSalle University.
Terri Cunnion, Account Executive (Joined 2018)
Terri has 20+ years of enterprise client relations and software product management experience serving medium to large fintech organizations.  She joined Miria in 2018, and is accountable for overseeing an account management program for the success of our customers. As the Account Relationship Manager, Terri is responsible for assisting our clients in meeting their business and strategic goals, while advocating for their success within Miria along with providing client relations guidance.  Prior to joining Miria, Terri served as Vice President of Product Strategy, Product Management and Business Operations for Fiserv, Inc., a Fortune 500 global fintech provider, where she was instrumental in developing effective strategies resulting in growing the lending division into a multi-million dollar business operation.  Terri holds a B.S. degree in Finance from Millersville University.
Kurt Schmucker, Applications Support Manager (Joined 2018)
Kurt brings 18+ years of experience in supporting, leading and managing resources that support international enterprise applications across dynamic on-premise and Cloud-based platforms. He joined Miria in 2018, and is responsible for the daily operational and strategic management supporting Customer Engagement.  Prior to joining Miria Systems, Kurt was an accomplished leader at VWR International for 11 years as a trusted manager providing support services across the eCommerce and Infrastructure teams.  Prior to that, he held additional customer service roles as an Assistant Director of University Housing at Temple University responsible for the front-end and back-end operations for the application platform controlling residential hall financial assignments.  Kurt holds a B.A. from The College of New Jersey.