Come Visit Us At The IBM THINK 2018 Conference!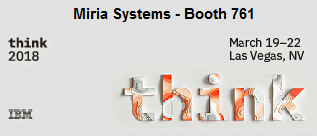 Did you know that Accounts Payable Automation and Cash Management are both hot topics right now for all Finance Departments!  Each one is an excellent target for ActiveOps, Miria's IBM Digital Business Automation based solution!
Please come visit us in Booth 761, March 19-22, and we will show you what it's all about!  We have ...
Continue Reading →