Scalable Automation for Finance
Everyone in the Accounts Payable (AP) industry knows automation is fundamental to an efficient business operation and quicker access to working capital.  The effort and potential for disruption to get there deters some organizations from initiating that transformation to an automated AP process.  At Miria, we understand what needs to be done for your business operations to achieve best in class AP Automation results.  We also understand evolving your business into a best in class accounts payable operation over time is a valid course of action.  That is why Miria's technology solutions offer the option of deploying automation at graduating levels of functionality that seamlessly integrate.  Each level delivers value and realized business benefits.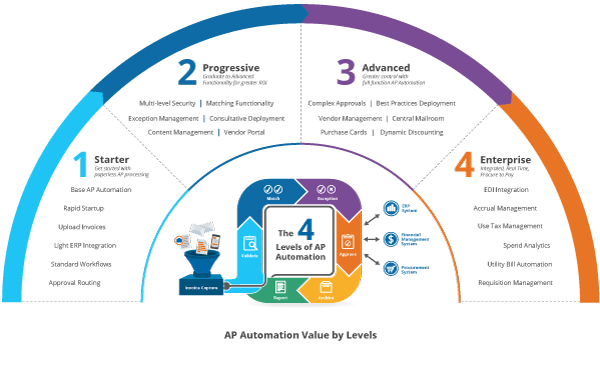 Each Level of AP Automation implemented brings your business closer to a best in class business operation.  An Aberdeen Group study demonstrated a best in class provider's costs for Invoice Receipt to Pay Processing are $3.34 vs. $16.67 for Laggards who lack AP Automation.*  Not only does AP Automation bring reduced costs, it frees up working capital for you to invest in your competitive advantages.  So, take the first step to achieve best in class AP Automation by calling Miria.  Miria will implement you to a Level of AP Automation required by your business with the option to achieve best in class results on your timeline and schedule.
*Aberdeen Group Study, AP Invoice Management in a Networked Economy